A queer love story told by an amateur magician. Her energetic act attempts the impossible — to rescue her girlfriend.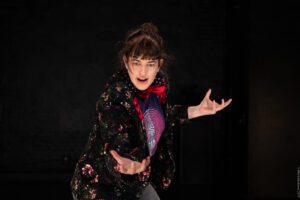 Flying Carpet theatre Company in association with The Tank (Meghan Finn, Artistic Director; Johnny G. Lloyd, Director of Artistic Development) presents the UK premiere of the archival film of the 2019 world premiere production of OPEN, a queer love story, streaming on demand August 16 through August 22nd, 2021 as part of this year's Edinburgh Festival Fringe.
"Kristen, the narrator and sole character of Crystal Skillman's new play OPEN at the Tank, executes magic tricks because she is the one who needs to believe. The miracle this lovely show pulls out is that by the end, she does — and so do we…Besides its intrinsic worth, OPEN should bring more attention to a pair of downtown's most bracing talents, [Crystal Skillman and Megan Hill]." CRITICS PICK -Elisabeth Vincentelli, New York Times
Filmed live in June 2019 at The Tank in a co-production with All for One in New York City, OPEN is a transformative theatrical experience captured in this beautiful film of the original live performance featuring Drama Desk Nominee Megan Hill, directed by Edinburgh Fringe favorite (and FLYING CARPET's Artistic Associate) Jessi D. Hill, and from the "Geek Girl" mind of Crystal Skillman, who the NYTimes dubbed a playwright with "downtown renown/midtown polish."
AVAILABLE ON DEMAND AUGUST 16 – 22nd as part of the Edinburgh Festival Fringe
OPEN is written by four-time New York Times Critic's Pick recipient Crystal Skillman (King Kirby, Mary and Max), with direction by Jessi D. Hill (Unblinking Eye, Surely Goodness & Mercy), starring Drama Desk Award nominee Megan Hill (Eddie and Dave, Do You Feel Anger?). The production has a runtime of approximately 60 minutes.
"We are live! Book your FREE tickets for Open here: (It is free but there is a small surcharge from The Edinburgh Fringe). Once that goes through, check your orders on the EdFringe.com site under your account and go to "My Booked Shows", then "My Orders", and click Fringe Online Player, where you'll sign in/up and view the show anytime between August 16th-22nd."
Press for the stage run of OPEN pre-pandemic: